CUSTOMER SERVICE EXPERIENCE

Jay Schmick Awarded Governor's Citation for 45 Years of Excellent Service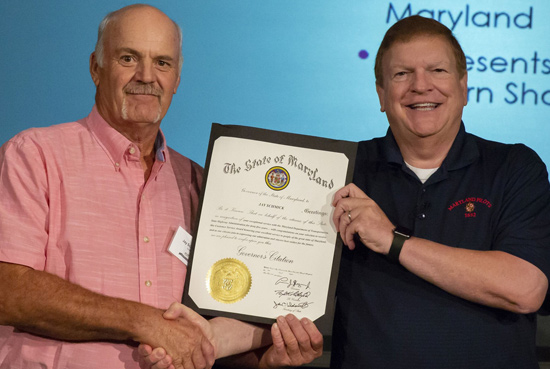 Jay Schmick (left) shakes the hand of Secretary Pete Rahn, who presented the Governor's Citation.
Jay Schmick, Resident Maintenance Engineer (RME) with the Denton Shop, recently received a Governor's Citation for exemplifying MDOT SHA's Customer Service Promise. With over 45 years of service, Jay was promoted to RME and still holds the position 28 years later. Throughout his many years with MDOT SHA, Jay has remained an advocate for succession planning - he's mentored several team members to help them become knowledgeable, effective employees.
His supervisor, Kenny Fender writes, "[Jay] has always been there to share his knowledge and experience with anyone who seeks guidance."
Jay has mentored Scott Cole (RME, Easton Shop), Dennis North (RME, Chestertown Shop), Noble Holland (ARME, Denton Shop) and James Gill (Facility Maintenance Supervisor, Denton Shop). He has also received high praise from former state Senator Richard F. Colburn for his work to promote pedestrian safety in his community. Not to mention, Jay previously received a Governor's Citation for his outstanding services to the citizens of Maryland. His dedication to every customer's needs positions him as a strong example of the customer service experience at its finest.