CUSTOMER SERVICE EXPERIENCE

To the Rescue, Right at Our Doorstep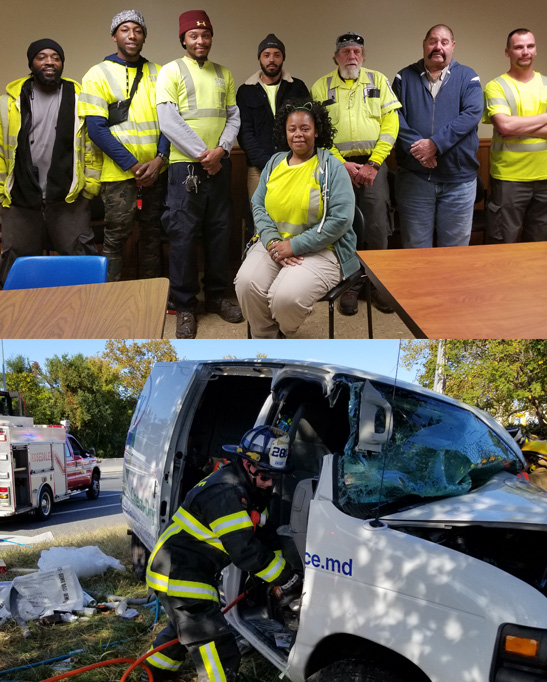 Quick thinking Golden Ring Shop team members came to the assistance of a driver trapped in a burning van before local emergency services arrived. Pictured at top are (left to right) Carroll Williams, Troy Dixon, Don Carter Jr., Marco Scurti, Rick DeMarr, Wayne Smith, and Nikos Routzounis. Seated: Christine Gilmore.
Every day, MDOT SHA maintenance technicians are on the road, ready to assist customers whose crashes are reported to the Statewide Operations Center and regional offices. But they're certainly not expecting a crash to occur right at their shop's doorstep.
That's just what occurred suddenly on October 10, when a crash jolted the Golden Ring Maintenance Facility. That afternoon, a passenger vehicle changed lanes in front of a commercial van on busy US 40 (Pulaski Highway), near the shop entrance. While trying to avoid the other vehicle, the commercial van driver veered from the highway and came to rest in the fence between US 40 and the shop. The front of the van was crushed and exploded into flames.
Eight members of the Golden Ring team sprang into action to help the driver. They joined forces to extinguish the fire with water hoses and fire extinguishers from the shop, then kept watch over the van's driver until emergency services arrived.
Angélica Medel, Administrative Assistant III at the Golden Ring shop, praised her coworkers' swift response that day. "They were ready, willing and able to rapidly assist and provide emergency services — even removing a door from the van and comforting the injured man."
Members of nearby fire departments quickly arrived at the scene. The fire fighters freed the driver from the van and took him to a nearby hospital. The Golden Ring Shop team is pleased to report that they heard from the grateful driver, who is recovering from his injuries.
Thank you to our eight Golden Ring employees who went above and beyond to assist one of our customers in need.