INNOVATION:
The Disappearing and Reappearing Bridge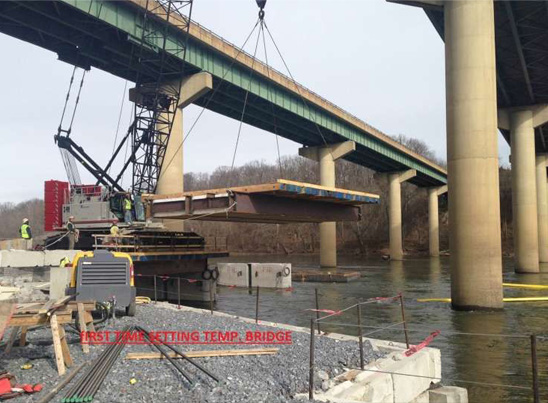 Contractors had to assemble, take down and reassemble this bridge 22 times!
Every project that MDOT SHA does in Maryland presents its own set of challenges, but not many are more challenging than the I-81 project in Washington County. It includes widening and superstructure replacement for dual bridges over the Potomac River. The contractor, Triton Construction, Inc. of St. Albans, WV, presented the innovative concept of a temporary bridge in its bid package.
The temporary bridge was built to allow the contractor to gain access to the entire River Bridge, adding additional footers and piers to widen the northbound/southbound structures to three lanes. The tough part is dealing with high water that can surge from the Potomac River.
At Triton, they monitor the National Weather Service website, which has sensors located in the Potomac River near Hancock, MD. The temporary bridge is roughly 9-10' above the normal water level. When the river level in Hancock reaches that 9' mark the crew has seven to eight hours to remove the bridge deck. To reinstall it takes five to six hours. All this can wreak havoc with a work schedule.
They now have it down to a science and no wonder: they have been hit with high water 22 times since 2016!
"The critical path on this project has always been on the River Bridge, and the Potomac River runs the show. The river has and always will be our most challenging obstacle," says Project Engineer Jeff Foreman.
Traffic is now open southbound from the River Bridge to the southern limits of the project at Exit 23 in West Virginia, with final configuration of three lanes all operational. Crews have completed the northbound stage two River Bridge deck pour and will soon pour parapet walls. They are still on schedule to have all traffic northbound/southbound in the final configuration by the beginning of December.