MODERNIZATION

NEW Knowledge Management Platform Now in Implementation Phase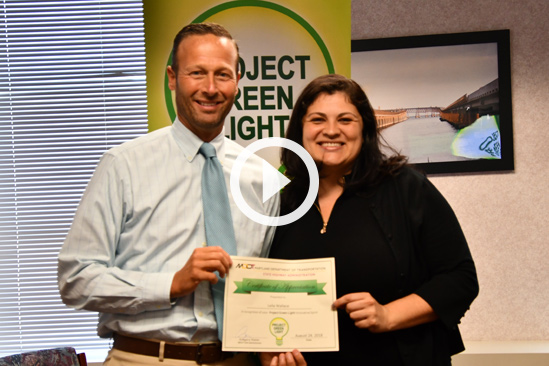 Leila Wallace smiles with Administrator Greg Slater after giving her green-lighted project presentation.
When District 5's Unit Training Coordinator Leila Wallace learned that Project Green Light - MDOT SHA's version of popular television show Shark Tank - was hosting their third session, she quickly signed up!
In Leila's first few months here, she noticed that standard operating procedures were difficult to find. To learn the necessary information to perform her daily tasks, she often needed to ask three or four of her coworkers for help. In an attempt to ease the onboarding process for new hires, Leila had always had an idea. Why didn't MDOT SHA put all standard operating procedures in one, universal, easy-to-find place?
The open-access Knowledge Management Platform is now in its early implementation phases! The Organizational Excellence and Strategy Division (OXSD) is partnering with Leila to ensure employees have access to the helpful tool as soon as possible.
The platform will include office-specific standard operating procedures such as training requests, an MTRACK and travel request guide, Financial Management Information System (FMIS) overview, procurement specifics, conference scheduling, human resources packages and onboarding protocols conveniently provided on the Intranet. The new and improved Knowledge Management Platform will also show which office to contact for more information regarding specific subjects.
"If [retiree] knowledge is not passed down to the next generation, we have to start over again with knowledge acquisition," Leila tells us. "This is a counterproductive method. [...] Having a place where knowledge can be preserved, updated, and passed on will help boost employee confidence, efficiency, and productivity."