INNOVATION

TSMO Will Pave the Roadways of Tomorrow!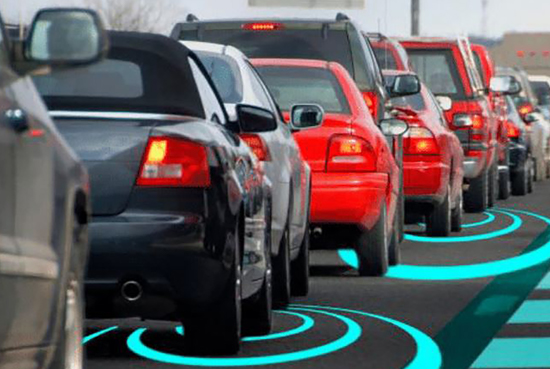 A depiction of Connected and Automated Vehicles (CAVs) of the future. They will be able to communicate with other cars and intersection signals, thus synchronizing traffic flow and easing congestion.
MDOT SHA is innovating our roadways with a variety of TSMO-related strategies. With new and improved infrastructure upgrades, intelligent transportation solutions and the deployment of technology working together to ease congestion and improve safety, TMSO is paving the way for the roadways of tomorrow.
For example, the I-270 Innovative Congestion Management (ICM) improvements will create an automated smart traffic system which will deliver the "Power of Go" to motorists on I-270 between I-70 and I-495. By restructuring existing pavement to add additional lanes, sensors that communicate traffic density and real-time communication, everyday commutes will become much smoother.
As part of Governor Hogan's Traffic Relief Plan, exciting traffic signal technology of the future is currently being implemented. New Smart Traffic Signals are being deployed along 14 highly congested arterial corridors around the state. This system uses real-time traffic conditions and computer software that adjusts the timing of traffic signals, synchronizes the entire corridor and deploys artificial intelligence to keep traffic moving.
Another innovation is the implementing of hard shoulder running operations along the Baltimore Beltway (I-695) during peak hours. This means that in certain areas, the emergency lane will be converted to a travel lane when traffic volume peaks. This enhancement is part of the Baltimore-area traffic relief plan that includes a new interchange at I-70 and I-695.
We've also completed a strategic plan and formed a dedicated working group for piloting Connected and Automated vehicles in Maryland! CAVs will be connected - meaning they'll be able to 'talk' to infrastructure, other vehicles and pedestrians electronically - and equipped with self-driving abilities, reducing the risk of an accident. The new strategic plan includes deploying Connected and Automated vehicle technology on Maryland's US 1 pilot corridor in Howard County!