CUSTOMER SERVICE EXPERIENCE

Bike to Work Day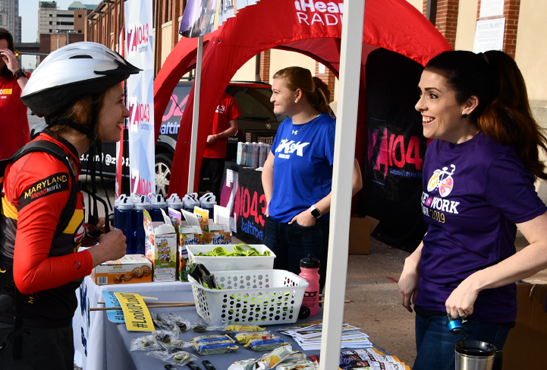 OPPE RIPD Chief Samantha Biddle helps an enthusiastic bicyclist at a table filled with healthy snacks, water bottles and brochures with useful tips.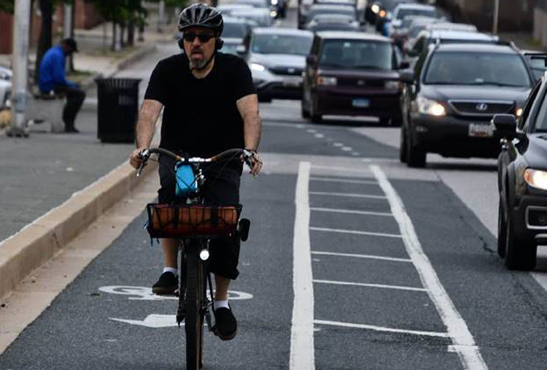 A bicyclist pumping the pedals on Guilford Avenue keeps a healthy distance from cars as he approaches the SHA Pit Stop.
There are many ways to commute along MDOT SHA roads and highways, and bicycling has the added advantage of providing some healthy exercise. On Friday, May 17, MDOT SHA showed its support for bicyclists by participating in Bike to Work Day #BiketoWork2019, which was organized by the Baltimore Metropolitan Council.
MDOT SHA volunteers staffed a Pit Stop outside headquarters, on Monument and Guilford, together with partners from MTA, RK&K and Z104.3/iHeart Radio. They offered cyclists breakfast snacks, attachable gyroscopes, t-shirts, a tire pump, and a station showing how to use a Bike-N-Ride, a rack that lets bicyclers safely store their bikes on MTA buses.
"People appreciated us being out there for them and encouraging them to take an alternative way to reach their desks," said Jon Mayer, the OPPE's Pedestrian and Bicycle Coordinator.
MDOT SHA emphasizes bicycle safety, both for bicyclists and drivers, urging "Drive Smart, Bike Smart." The safety campaign, which officially launches during May's Bicycle Safety Month, also reminds drivers that "A bicyclist might be someone you know."
Thanks to Samantha Biddle, Dale Edwards, Lindsey Franey, Meredith Hill, Winston Hughes, Daveda Johnson, Barry List, Jon Mayer, Stephen Miller, Elliot Plack, Peter Sotherland, Kay Underwood, and all the MDOT SHA volunteers who made the day special.