MODERNIZATION

Easing Paperwork for Erosion and Sediment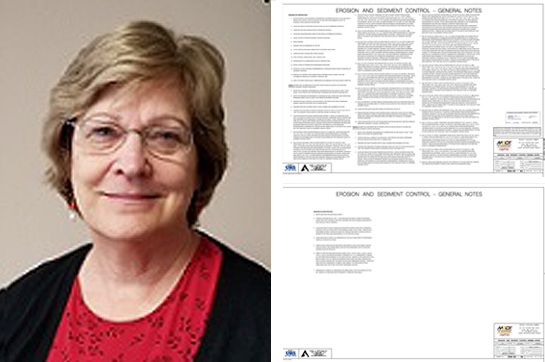 Laura Ridler says she's proud of the team that reduced the control sequence of construction from 198 items to 22.
Remember the old quip, "I would have written a shorter letter, but I didn't have the time."?
Writing concisely can be a challenge. Keeping standard operating procedures from ballooning can be hard, too.
That's been the case with erosion and sediment control, explains OHD Deputy Director Laura Ridler. OHD oversees project design, which includes an Erosion and Sediment Control sequence of construction aimed at preventing sediment-laden runoff and damage to the environment.
"Over the past decade, these sequences went from simple to very detailed," she observes. "The sequences have become so prescriptive and descriptive. It's like everything but the kitchen sink is put in there."
And that has led to a rise in contractor field modification requests – almost 1,000 in 2019 – delays, and frustration, both among contractors and OED field compliance staff.
"We lost sight of the purpose of the sequence of construction: letting contractors know the critical information so things function the way they're supposed to," she says.
Understanding the need for change, MDOT SHA launched a pilot in the fall, bringing together staffers to work out what should be in the sequence of construction and what shouldn't. The result: The staffers managed to reduce the sequence of construction from 198 lines down to a mere 22. Now the sequence of construction is flexible while complying with erosion and sediment regulations.
"I'm very proud of the team," says Laura, "and we should see far fewer field modification requests for this project than we would have before these changes were made."
The pilot project, located on MD 212A, was advertised in February.
MDOT SHA will monitor project feedback from districts, Quality Assurance, designers, and contractors.
Word is already getting around. MDOT SHA shared its accomplishments at MdQI and at a pre-coronavirus meeting of the American Society of Highway Engineers. Training – which will be moved online because of the COVID-19 emergency – will begin soon.
Thank you to the work group members and those who implemented the new program, including OHD Plan Review Division Chief Matthew Keenan, Highway Hydraulics Division Chief Dana Havlik, and the now-retired Stephen Buckley of Highway Hydraulics.