March 2019
PLEASE PRINT & POST
COMMUNICATION

Administrator's Message: March Is Women's History Month at MDOT SHA
As National African American History month ends and the month of March marks National Women's History Month, it's important to remember that ensuring diversity of our team delivers the best for Maryland. Mirroring the many Marylanders we serve, our workforce hails from different cultures, creeds, and backgrounds, and it is this diversity that allows our agency to thrive and deliver the best customer service experience.

Transportation is a historically male-dominated field, but MDOT SHA female workforce is boldly contributing to reverse that trend. With more than 30 percent of our Senior Management Team women, their phenomenal ideas and innovations, forward-thinking modernization, and consistent deliverability of a positive customer experience make MDOT SHA an example of sustained excellence.

Greg Slater
According to the Society of Women Engineers, women are an industry-wide underrepresented group with only 13 percent of U.S. Engineers female. That's staggeringly low. Not to mention, the stereotype that links tech-related fields to masculinity is still prevalent in today's world and may be difficult to overcome.
Despite all this, the MDOT SHA's female workforce continues to grow. Beyond senior management roles, many MDOT SHA women fill high-level deputy and division chief positions. Our training opportunities including the Advanced Leadership Program (ALP), Leadership Education and Development (LEAD), Stepping into Success, and the Graduate Engineer Training Program (GETP) arm our passionate women with the skills to break through problematic STEM stereotypes. In an effort to attract more and more young women to transportation, MDOT SHA partners with internship programs at the University of Maryland and Morgan State University.
In celebration of Women's History Month this March, I'd like us all to recognize the dedication, leadership, and commitment of our female colleagues. After all, it was Mary Anderson who invented the first design for the windshield wiper in 1903, Stephanie Kwolek who invented Kevlar - the strong fibers that make up bulletproof vests and seat belts - in 1964 and Florence Lawrence who invented the turn signal in 1914! By helping women grow and advance in key roles, we hope to give the next female inventor the stepping stones to build something incredible.
We will continue to maintain an environment of mutual respect and collaboration where everyone's voice is heard. Thank you for continuing to grow with us as part of the MDOT SHA family.
MODERNIZATION

Coming Soon: The Internal Board Messaging Program!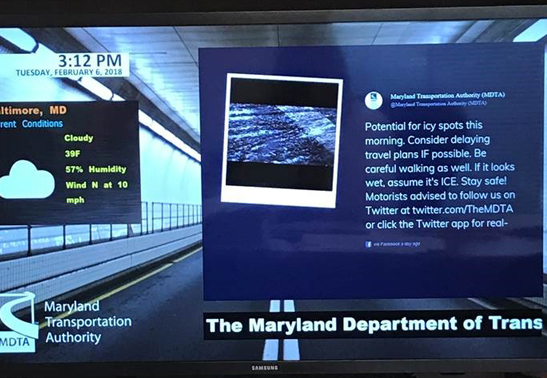 A sneak peek at the upcoming digital signage monitors that will revolutionize internal communications at MDOT SHA!
With more than 3,000 employees, decentralized locations stretching across the State and employees in the field having limited access to email communications, internal communications can be a challenge. The majority of internal MDOT SHA correspondence is via email, mass messages sent out to the entire agency or fliers placed on bulletin boards. How can we consistently communicate better with our team?
Fortunately, the Office of Communications (OC) has found one way to modernize internal communications. Over the course of the next year, the Office of Information Technology will be working with OC to install 49 32" monitors to all Hanover locations, District Offices and Shops across the entire state. The television monitors will include Visix - a type of software which allows content to appear in timed, looped blocks on the screen (see above). The Maryland Transportation Authority already implemented this, and so far they've had positive results! Information will include feeds to our social media platforms, as well as major agency announcements and initiatives - like the next call for Project Green Light.
The most exciting part of this new initiative? Team members will have the option to post their own, personalized content. Internal content managers have been assigned across the agency. Spread the word about upcoming team building events, or congratulate a coworker on a promotion or retirement!
INNOVATION

NEW Historic Property Evaluation System Streamlines MDOT SHA's Architectural Eligibility Reporting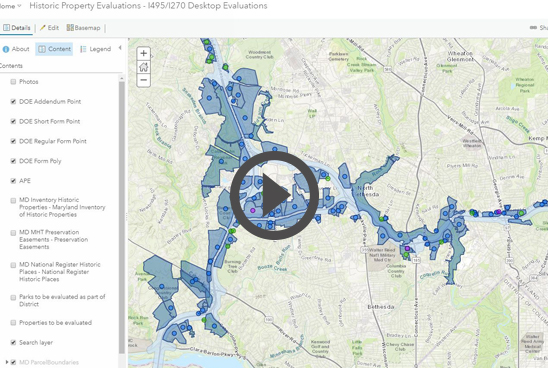 A snapshot of MDOT SHA's Historic Property Evaluation System.
Innovation helps make history in the MDOT SHA's Cultural Resources Section, responsible for recording architectural resources and determining National Register of Historic Places listing eligibility. In coordination with the Maryland Historical Trust, the Cultural Resources Section develops Determination of Eligibility (DOEs), which include text, maps, and photographs of each resource evaluated. To streamline the process, the Cultural Resources Section has created a cohesive online environment now used to conduct fieldwork, track progress, and coordinate reviews. Previously these different aspects were all completed separately, using a variety of inefficient methods.
IDOEs are typically completed by consultants, and Cultural Resources reviews forms once they are finished, using mail or a file sharing service. For some projects, our consultants are out in the field using iPads connected to GIS maps and taking photos that are then uploaded to the cloud. In the past, DOEs were created in an Access database, and maps and photographs were appended as an additional step. Now, photos and maps are uploaded to Survey123, and the entire report is generated automatically, pulling information from the fields completed in ArcGIS Online. MDOT SHA and the consultant firms have access to all the information as it is recorded, allowing the team to eliminate extra steps and catch mistakes earlier. Additionally, an online map now shares the results of eligibility determinations in a user-friendly fashion, with a new visual component not available before. Check out the 2019 GIS Symposium (1:53:15 - 2:14:30) to see our consultants discuss this initiative in depth.
CUSTOMER SERVICE EXPERIENCE

We're on it! Every Route, Every Drop of Freezing Rain, Every Snowflake!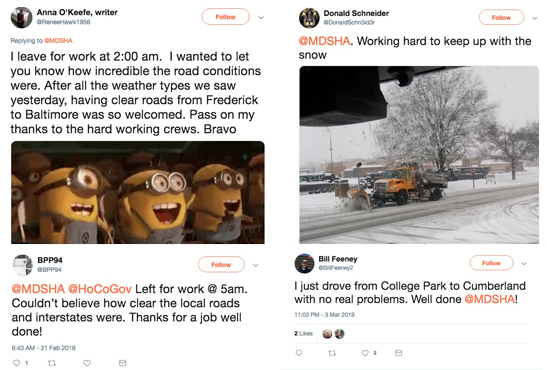 Above are a few tweets from Maryland citizens who wrote to express gratitude for MDOT SHA's snow operations excellence.
Phew! What a winter! With bouts of the dreaded wintry mix and snow emergency events across the State, we certainly had our work cut out for us. As always, we met the freezing rain and snowflakes with one fail-proof method: Perseverance!
During each snowfall event this year, our customers wrote to us on Twitter to let us know how much they appreciate the hard work we do. Because let's be honest, who wants to be plowing the roads when they could be sledding with the kids? Fortunately, Maryland residents understand the sacrifices we make to deliver them to life's opportunities.
One customer writes, "Thank you, I've lived in West Virginia, Pennsylvania and Maryland... You all do the best job on the roads by far!"
Another citizen expressed her gratitude by tweeting, "Thank you hard working crews. We DO appreciate YOU!" with a shout out to our team members who are out there in the thick of it, risking their safety to ensure the roads stay safe for everyone.
Thank you to all maintenance and operation staff who make our roads drivable, and more importantly, safe during all winter weather events. We're on it, 24 hours a day, 7 days a week, 365 days a year, and your dedication never goes unnoticed!
PHOTO OF THE MONTH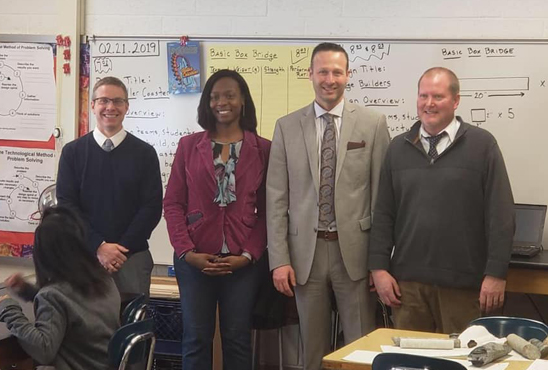 On February 21, MDOT SHA's (left to right) Justin Mohr, Jacquae Rubin and Greg Slater visited Mr. Rest's classroom at the Mt. Washington School for National Engineers Week. Students gained first-hand knowledge of bridge building and had the opportunity to speak with engineers to learn more about their profession.