INNOVATION

e-Construction: Mobility Outbreak for MDOT SHA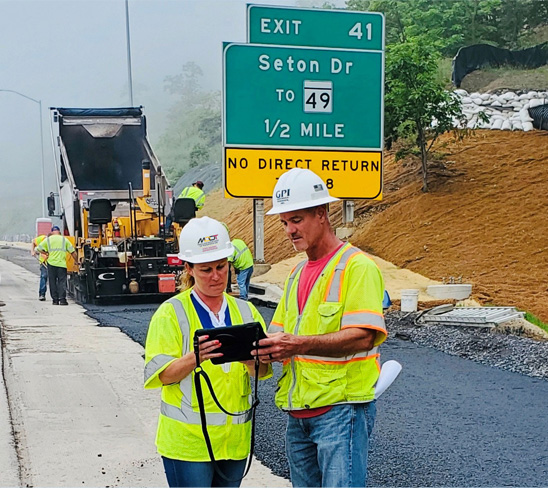 With the advent of e-Construction, tablets let inspectors take notes electronically on project sites and communicate rapidly with MDOT SHA staff and contractors.
For the Office of Construction (OOC), converting a process that had long been paper-based into a digital format meant working out some tricky problems: finding an innovative solution to meet the needs of MDOT SHA Construction inspection staff on job sites and customizing that solution so it is user-friendly, for both veteran staffers who always used pen and paper, and millennials who were born into this digital era using mobile devices.
Fortunately, say OOC Director Stephen Bucy and e-Construction Program Manager John Hampton, we've had an incredible partnership with the Office of Information Technology (OIT) team led by Director Laurie Goudy and Deputy Director Karen Keller. The OIT team was dedicated to understanding customer needs to design and develop e-Construction, which now improves processes for statewide inspection staff, and the needs of our partners in other offices and industry. The result was the birth of an electronic Maryland Construction Management System (eMCMS), which is working well.
"It's made us more efficient as an organization," observes John Hampton. "It's saving time, generating safety by social distancing during COVID-19 and improving the outcome at every stage of the project lifecycle."
e-Construction applies an array of digital tools to operating the built environment. It links eMCMS to previously utilized AASHTOWare and Bid Express eBidding tools, a digital file repository utilizing Microsoft (MS) OneDrive, and the collaborative tool MS Teams. A Federal Highway Administration (FHWA) State-Based Innovation Councils (STIC) grant provided tablets and therefore mobility to Construction inspection staff, who can now access these tools from anywhere at any given time. The iPads increased collaboration with other stakeholders by letting them spend less time traveling to jobsites or field offices. It has made it easy to share data remotely with contractor leadership and MDOT SHA staff in other offices.
Contractors benefit through this application, rapidly improving the approval workflow for paying monthly estimates on projects. Our next major step (Phase II) of e-Construction development will tackle a contractor/MDOT SHA frustration: change orders. The team will start tracking status through an automated e-Approval workflow, further reducing delays in what is currently a tedious, back-and-forth paper-based process.
"Our statewide implementation has gone out to more than 750 staff members in all seven districts, OOC and several other offices, such as Office of Materials & Technology (OMT), Office of Structures (OOS), Office of Traffic & Safety (OOTS), Office of Environmental Design (OED) and our industry partners," says Stephen Bucy. "All in all, e-Construction brings us together, saving time and money, and – this is critical – delivering a better outcome through the use of technology and innovation for Maryland's transportation industry."