MODERNIZATION

Reviving Cyprus Park Nature Trail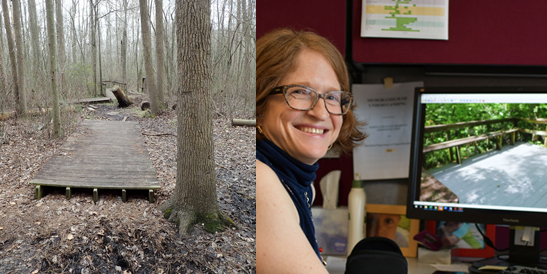 Cyprus Park Nature Trail deteriorated over many years. Cheryl Ladota shows a section of the new trail rebuilt with help from MDOT SHA.
Cheryl Ladota gets this question all the time: How is MDOT SHA involved in building park trails?
In this case, we are the agent of good works in a related realm. The Federal Highway Administration provides funding to build and maintain recreational trails and, in Maryland, in addition to administering designated highways, MDOT SHA awards these funds on behalf of the federal government to projects based on merit. The Cyprus Trail in Worcester County's city of Pocomoke, which winds through wetlands and along the Pocomoke River, was awarded $40,000 in federal funding.
Cheryl, who is the Team Manager for Maryland Recreational Trails/Scenic Byways, administers the program.
"Over time, the trail fell into disrepair," she explains. The trail is essentially a boardwalk running over sensitive wetlands and is meant to protect them. Joggers, dog walkers, bird watchers and strollers regularly use the trail, which suffered from broken and missing planks, forcing people to make their way through mud and unintentionally damage the wetlands.
Pocomoke matched the federal funds with $20,000 in funding and labor. The new trail, whose construction began in the spring, is being built by municipal workers along with volunteers, who have donated more than 90 hours of their time. Their work should be complete this summer.
"People are excited that the trail is restored, safer, and more accessible," says Cheryl. "One woman told me that things were so bad she had to stop coming to the trail. Now she's back. And she's happy that she's back."