INNOVATION

SOC Rebuilding on 25th Anniversary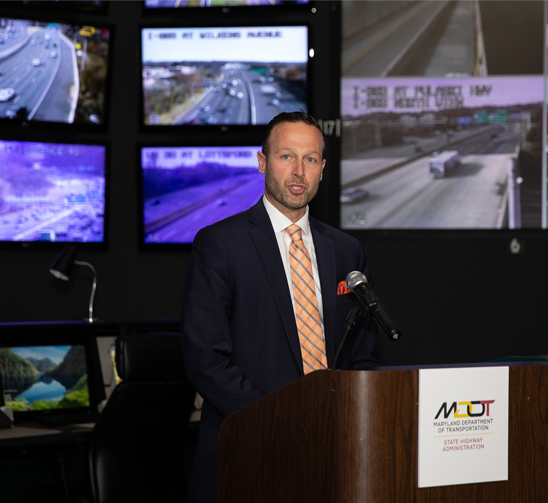 During its 25th anniversary, the SOC is getting a new operational center that will help staff focus on multiple collision reports occurring at the same time. Last year, MDOT Secretary Greg Slater spoke at a press conference at the SOC.
For Marylanders of a certain age, it's a blast from the past, observes CHART Systems Administrator Rick Dye. He remembers an earlier era's complaints about summertime traffic to the Eastern Shore when there were no reports to drivers about traffic volume and no emergency vehicles to clear crashes. Travelers got stuck on US 50 and they complained. The year that legendary Governor William Donald Schaeffer took office, he told then-SHA Administrator Hal Kassoff to fix it...by Memorial Day!
"I remember Mr. Kassoff telling me that as mayor of Baltimore, the new governor had earned a reputation as transformational and unconventional – he hated "same old, same old" and relished "new and different," Dye says. It seemed that his favorite saying was, "Do it now!"
As the story goes, Hal saluted smartly and replied with the governor's favorite expression, "Yes, sir, we'll get it done now."
Subsequent research made SHA officials realize that the ability to determine what's happening, provide a quick response and notify the public were the most critical things to do. CHART was born.
By 1995, it became clear that a central station was needed to monitor traffic and incidents across all the Maryland counties 24/7/365. That's when officials built the Statewide Operations Center (SOC) next to the Office of Maintenance and the Office of Traffic and Safety because they would need to collaborate, especially during winter storms.
This year marks the SOC's 25th anniversary, and at least partially in that honor, a new SOC is now being built.
The new design is meant to improve on the present center's limitations.
Says Dye, "We look like a lot of operation centers, like NASA, all facing the screens. But we're not NASA. They concentrate on a single task, launching a rocket. For us, there's always more than one event going on and our staff gets distracted. Believe it or not, we found that a better model was ESPN, a hub where one group is following basketball and another football and another baseball. They need good communications, but in their own areas."
Rebuilding the Hal Kassoff SOC is starting now and should conclude in about a year. In the meantime, SOC staff will be housed temporarily in the computer training room of Hanover's Building 4. The relocation isn't as painful as some feared because COVID-19 has already forced many to readjust, moving their operations to telecommuting.
Says Dye, "We expect to continue without a pause during this major renovation."
William Donald Schaeffer wouldn't have expected it any other way.