CUSTOMER SERVICE EXPERIENCE

Going the Extra Mile to Explain a Project Face to Face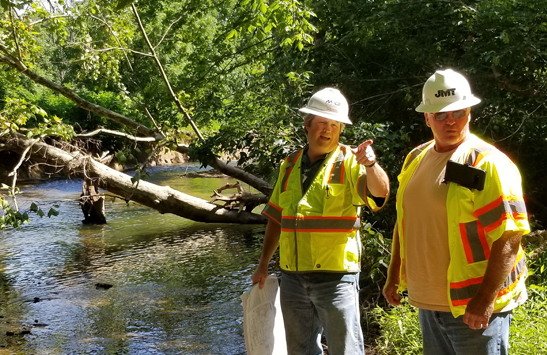 It was easier to explain the MD 355 project to a customer in person, says, D7 Construction Project Engineer Philip Brentlinger, left, shown here discussing related stream restoration with a contractor.
Sometimes you just can't understand something until you see it with your own eyes. That was the case for Jim, a Clarksburg resident, who frequently drove on MD 355, where MDOT SHA is rebuilding a bridge over Bennett Creek near Urbana.
"I travel this stretch of road daily," he wrote MDOT SHA. "I'm very interested in the project, and the plan and steps involved. Is more information available?"
As it turns out, there was.
D7 Construction Project Engineer Philip Brentlinger responded with an overview of the temporary road being built to handle traffic while an MDOT SHA contractor is constructing a new bridge. Jim, who knows a little about construction, wanted even more detailed plans. Systems limitations, however, prevented Phil from sending the lengthy plans by email.
So, Phil went the extra mile – he broke what filmmakers call the Fourth Wall and invited Jim to stop by the MDOT SHA office, where he could pull the drawings and documents and review them in as much detail as desired.
"I set up a time and when he arrived, I showed him the plans," Phil explains straightforwardly. "This project includes stream restoration, and I showed him where the new stream will go, where the temporary road will be built, and how we'll raise the elevation of the existing road."
Jim departed with a lot more information than MDOT SHA could fit in an email – and a feeling of appreciation, Phil relates.
"He was very pleased with the information," says Phil, who provided his phone number in case more questions came to mind later.
The project is expected to conclude at the end of 2020 and between now and then, Jim will have a chance to match the plans he previewed with actual construction. By early 2021, he should have a chance to drive over the new bridge, whose maps he was able to review in person, thanks to an MDOT SHA staff member who took the time and a personal interest in ensuring Jim had a great customer experience!