INNOVATION

MDOT SHA Drone Update: The Office of Materials Technology (OMT) Assesses Geological Hazards With Unmanned Autonomous Vehicle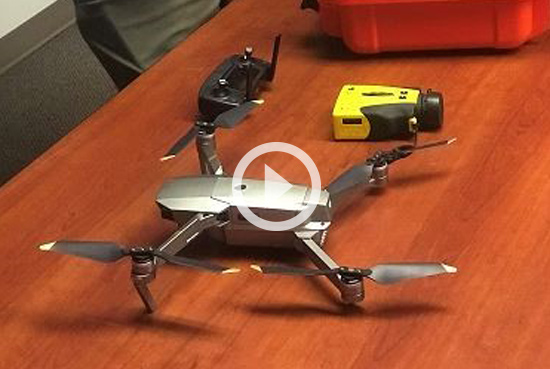 A snapshot of MDOT SHA's first in-house Unmanned Aerial Vehicle (UAV) or Drone.
In previous Momentum articles, we explored OED's use of drone technology to inspect vital mitigation for MDOT SHA built environments. In an effort to monitor and map Maryland's geological hazards, OMT is now using an Unmanned Aerial Vehicle (UAV), or drone, to expedite and improve data collection. Now OMT can safely collect aerial photos to provide high accuracy detailed aerial maps and 3D terrain models.
"Field conditions might be inaccessible or unsafe on foot. UAV technology allows us to safely collect data across the entire site. We can be onsite at a safe location collecting data and then convert that data into 3D models and other deliverables. Especially in emergency projects, this is the fastest, cheapest and safest way to collect site data," Sejal Barot, Director of OMT stated.
OMT has developed a Geographic Information System (GIS) tool for sharing UAV data as well. This is an innovative tool that will allow all MDOT users to view the various UAV deliverables (3D models, aerial maps, photos, videos, and more) for all flights in one centralized location. The tool ensures easy data sharing and collaboration across divisions and expedites data delivery.
"UAV deliverables yield fast, efficient and accurate solutions. We were able to fly immediately after the flood event in Ellicott City and - the same day - capture, process and provide all MDOT SHA deliverables. The GIS delivery platform helps us to share these deliverables across the entire agency, allowing customers and stakeholders to immediately quantify and measure hazardous site conditions," Ross Cuts, OMT's Field Manager and certified drone pilot explains.
This is an excellent example of successful collaboration and a testament to the hard work OMT and OPPE invested to make this program a reality. Considering these achievements and benefits, a UAS Task Force has been formed under the OIT Steering Committee to enhance the benefits of this new technology. Click the link if you're interested in joining the Task Force or if you'd like to know more information about how we're using drones internally.