CUSTOMER SERVICE EXPERIENCE

Stepping Over the Line (in a Good Way)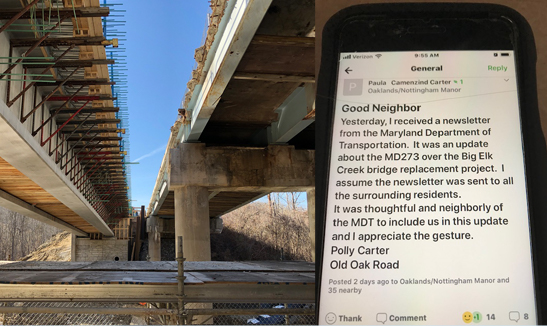 Construction on MD 273 over Big Elk Creek affects drivers in three states, so MDOT SHA staff provided Delaware and Pennsylvania residents with well-received updates.
MDOT SHA touches every part of our great state. While our projects and primary obligations are in Maryland, our customers can be anywhere. District 2 and Public Involvement staff recognized this fact recently when they reached across two state lines with a newsletter mailing about our MD 273 bridge replacement project.
The bridge spans Big Elk Creek as well as a popular hiker/equestrian trail in the Fair Hill Natural Resources Management Area. Five minutes to the north and you're in Pennsylvania; five minutes to the east and you're in downtown Newark and the University of Delaware.
Response to the simple update was impressive, with many Delaware and Pennsylvania residents lauding MDOT SHA for looking across state lines.
David Kuntz wrote, "I am also extremely pleased that you included Pennsylvania Elk Township people in the mail handout. Your state is a very good neighbor and compliments to all on this project."
Ginny Widdoes of Newark also was among several who took the time to express their appreciation, noting, "I received your very informative, comprehensive and understandable notice. It is greatly appreciated because MD 273 is a major artery for us."
Paula Carter of Newark said the mailing was, "very thoughtful and neighborly. We are, truly, all in this together and communication is key to good relations and understanding."
"Project Engineer Trudi Gaito understands the commuter traffic patterns here and has a great working relationship with Fair Hill park officials, so we know who crosses both over and under this bridge," said District Community Liaison Bob Rager. "Once you know your customers, reaching them is easy, thanks to our fantastic Public Involvement team!"
MDOT SHA Public Involvement Coordinator Monica Stevens adds that while it's unusual to get comments about a mailing, "I think people genuinely appreciate it when we reach out to them on a project they care about."
Thank you to everyone who was involved with this outreach effort. Your hard work paid off and was clearly appreciated by our customers near and far. Keep up the great work!