January 2019
PLEASE PRINT & POST
COMMUNICATION

Administrator's Message: New Year, Same Stride, Building Upon Our Momentum from 2018
Welcome to 2019!!! It's a new year. And with a new year, we will hit a new stride as an organization. We are making great progress during a time of great change, and this organization will continue to deliver a standard of excellence in the new year.

We're marching forward and moving fast with innovative and transformative solutions across the system and delivering on a customer experience to all Marylanders. We are becoming a NATIONAL LEADER in transportation. I know 2019 will be another banner year in that regard.

Greg Slater
One of the things I am focusing on in 2019 is the customer experience, and in particular, our interface with those customers. By returning every phone call...and addressing each pothole...and changing the light bulbs, we can make a difference in the lives of our customers. But we need to take it further. And we will. We will find new and innovative ways to reach our customers with project outreach, a new social media strategy, a new website and a revamped and improved Project Life Cycle (PLC) system.
Every single customer is important to us. More so...what is important to them is important to us, and we need to show them that with our responsiveness and attention to detail. Our attention to them. Sure, we'll continue to deliver large projects and build bridges and leverage technology to deliver transformative solutions. But we have to always think about the small things. And that transparent and relevant outreach to Marylanders is one of the things which will command our focus.
That is our charge. That is our future.
Let's tackle 2019 together!
MODERNIZATION

Designing for Density: Reshaping our Network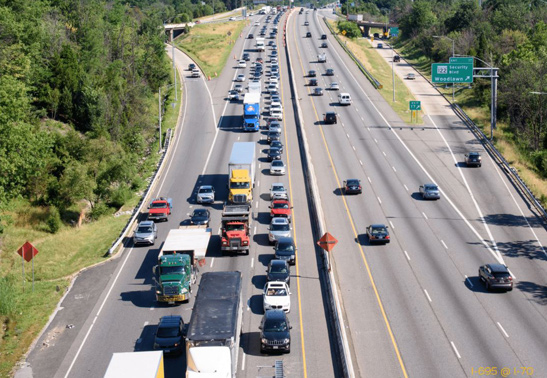 A snapshot of I-695 at I-70.
With the advent of Waze, Google Maps and a whole slew of other GPS-based directional mapping technology, more and more motorists are abandoning busy expressways to seek alternate routes on already crowded urban arterials, residential, county roads and neighborhood throughways. Traffic pattern changes along with dramatic changes in land use, have resulted in more conflicts as we accommodate all of our customers - drivers, bicyclists and pedestrians. With more traffic on local roads and pedestrian crashes on the increase throughout the State, MDOT SHA is looking at designing for density - a new design lens that considers the specific needs of urban arterial and neighborhood routes.
By narrowing lanes along neighborhood thoroughfares and in business districts, we are encouraging drivers to feel more inclined to slow down. Likewise, lowering speed limits on these more local routes will deter motorists from using these as commuter routes. When traffic slows and lanes are narrowed, drivers will return to the interstate as the quicker commuter route, thus reducing gridlock in urban and suburban communities. The progress we make to encourage motorists to stay on interstates today is relieving congestion, preventing gridlock, making arterial roads safer for all customers and delivering the "Power of Go."
INNOVATION

Mobile Advanced Road Weather Information Sensor (MARWIS) Transforms MDOT SHA Vehicles into Motorized Weather Stations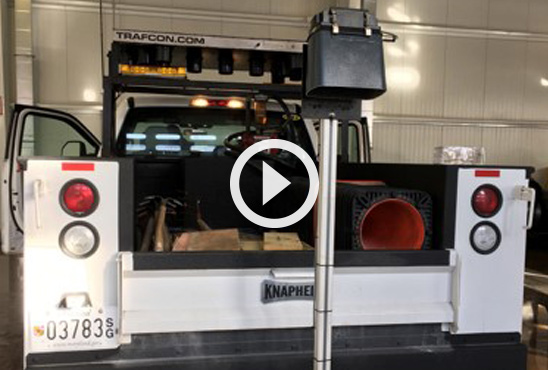 A Mobile Advanced Road Weather Information Sensor attached to the bumper of one of MDOT SHA's plows.
The Mobile Advanced Road Information Weather Sensor (MARWIS) is a mobile road weather device that measures road conditions and environmental data. The sensor takes measurements 100 times per second while directly installed to MDOT SHA vehicles. Used to collect data on temperature, relative humidity, dew point and road conditions; the sensors can determine if the road surface is dry, moist, wet, covered with ice/snow or chemically treated. As well as calculating ice percentages and weather-related surface friction, MARWIS compiles this data on the Cloud and forwards this critical operations data to the Statewide Operations Center.
With accurate real-time road conditions, MDOT SHA can make sound decisions concerning plow deployment, sensible salting and pretreating. Installed on our fleet of over 2,000 pieces of equipment, this cutting-edge technology directs resources to where they are needed, resulting in safer roads during winter weather weather events. This technology not only helps save time and money, it also helps MDOT SHA's continued salt reduction efforts - improving our environment and water quality. By employing a range of salt reduction strategies, MDOT SHA over the past five years has reduced its overall salt usage by half.
CUSTOMER SERVICE EXPERIENCE

Mother Nature's Wrath Brings Record-Breaking Rainfall, but MDOT SHA Perseveres Through The Relentless Soak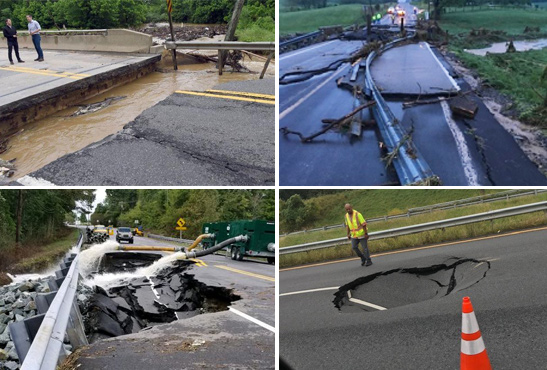 Top Left: The washout on the east end of the MD 198 bridge in Anne Arundel County. Top Right: The MD 180 (Jefferson Pike) washout between MD 79 and MD 17. Bottom Left: The MD 349 (Nanticoke Road) washout. Bottom Right: The sinkhole that formed on MD 32.
The year 2018 was Maryland's wettest year on record, according to official measurements by the National Weather Service. More than 70 inches of rain soaked Maryland's roadways, creating flooding, sinkholes and washouts across the state network. Undaunted by Mother Nature's challenge, MDOT SHA's dedicated staff worked tirelessly to repair and open roads to deliver Marylanders to life's opportunities. With major washouts occurring at the east end of the MD 198 (Laurel Fort Meade) Bridge, MD 349 (Nanticoke Road), MD 180 (Jefferson Pike), as well as sinkholes closing sections of MD 450 (Defense Highway) and MD 32, we had our work cut out for us.
Thankfully, being the incredible team of hardworking men and women that we are, we responded to each roadway incident urgently and efficiently, setting up closures and detours to safely direct traffic while ensuring expedient repairs. With approximately 3,500 vehicles traveling the section of Jefferson Pike between MD 79 and MD 17, significant rainfall caused Little Catoctin Creek to swell, pooling over the roadway, causing flooding that destroyed the pavement. MDOT SHA set up detours to minimize impacts to traffic as crews repaired the roadway. Up to two-week closures were necessary for the sinkhole repairs, and MD 198 and MD 349 washouts also presented the need for detours and closures. On MD 349, traffic was detoured using Crooked Oak Lane and Rockawalkin Road. Traffic from MD 198 was encouraged to take route 32 and the Baltimore Washington Parkway. By the end of the year, precipitation-induced roadways closures were all opened, and the necessary repairs complete! Thank you to all team members who responded and helped with these emergency repair projects.
PHOTO OF THE MONTH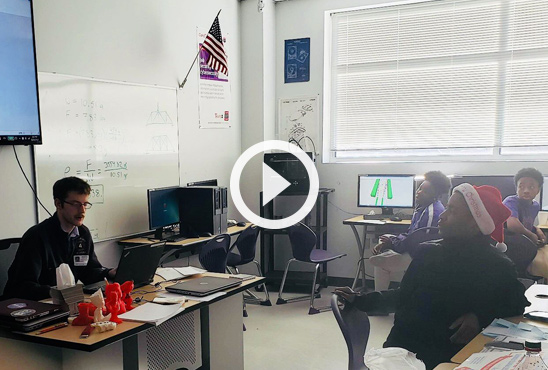 Chris Mierzejewski, a Bridge Engineer with MDOT SHA, mentors and instructs aspiring engineers at CMIT North in Laurel, MD. Our TRAC (Transportation and Civil Engineering Program) continues to grow with seven schools!