COMMUNICATION -
ADMINISTRATOR'S MESSAGE

What is MdQI and Why is it Important to You as an MDOT SHA Employee?
At MDOT SHA, we often focus on how our internal teams work together to deliver our program. However, in order to continue to deliver innovation, modernization, communication and an outstanding customer experience, we must also take into consideration the role our industry partners have in contributing to driving change for Marylanders. That is why it is important for us to tap into industry resources and organizations such as the Maryland Quality Initiative (MdQI).
For those of you who are not familiar with MdQI, it is a cooperative of agencies and associations representing Maryland's transportation industry that was founded by MDOT SHA and private sector representatives in 1993 with a mission of continuous quality improvement to ensure a safe, efficient and environmentally friendly transportation system that meets the needs of all stakeholders. Since its founding, the group has expanded its membership and partners to include all MDOT transportation business units and the MDTA, the U.S. Department of Transportation Federal Highway Administration (FHWA), local government transportation and public works agencies, the private sector and industry associations.
MdQI sponsors ten subcommittees: Awards, Conference, Innovation, Partnering, Project Development, Public Relations, Outreach, Transportation Operations, Safety and Utility. Each subcommittee works throughout the year to support the consortium's mission, goals and activities; facilitate productive discussion and problem-solving; recognize industry achievements; and provide technical sessions on industry practices and issues. These activities include the statewide Annual Conference, Awards of Excellence program and a transportation-related Minority Business Enterprise networking event.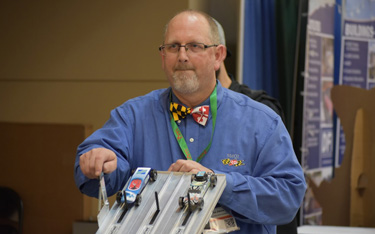 At MdQI, OPPE Assistant Division Chief Dennis Atkins checked out two competitors in the annual Pinewood Derby.
This year, it was my pleasure to serve as Co-Chair of the 2020 MdQI Annual Conference, which took place last month at the Baltimore Convention Center. The two-day Conference kicked off with technical sessions and a highly attended MBE Meet and Greet, which offered minority-owned firms the opportunity to meet with Prime Engineering Firms and Prime Contractors/Suppliers, introduce their firms and discuss upcoming projects and connect with potential teaming partners.
But MdQI is more than the Annual Conference and Awards Program. One of MdQI's goals is to educate Maryland students about the transportation industry and associated careers. Student outreach events include middle school and high school visits, the annual Engineers Week program for middle school and high school students at the Engineers Club of Baltimore, and the MdQI Transportation Career Day for high school students at the War Memorial Plaza in Baltimore coming up on April 2, 2020.
THIS is where MdQI can make a difference, and I hope you join me in getting involved! To learn more, visit mdqi.org and see how YOU can make a difference.
Tim Smith, P.E.
Acting Administrator