INNOVATION

Sensible Salting With the Wheel Loader on Board Weighing Systems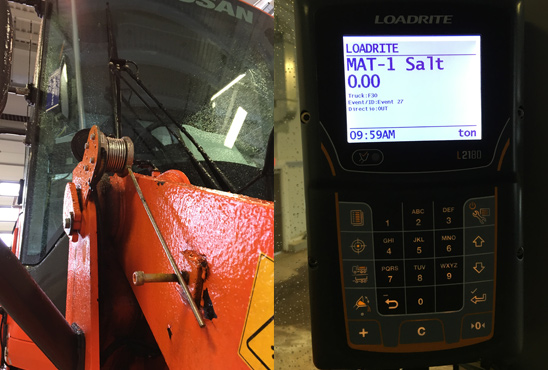 The loader scale boom sensor attached to an MDOT SHA wheel loader tells the in-cab controller where the bucket is during the weighing process (left). The L21 indicator (right) measures the weight of loaded material, then transfers the data.
One of the jobs MDOT SHA is most well-known for is our treatment of state routes during snow emergencies. Even before the snowflakes start to fall, WE'RE ON IT, pre-treating roads, and actively salting or plowing once the dreaded winter weather arrives. MDOT SHA is keenly aware of its responsibility to provide safety and mobility for motorists on state-maintained roads during winter storms, and, at the same time, do so in a cost effective and environmentally sensitive manner. Being able to do both requires innovative technology and building upon what we already know about Maryland weather operations.
Fortunately, the onboard loader scale is helping us salt sensibly. First tested in Keysers Ridge, LaVale and Centerville shops, this technology allows maintenance staff to more accurately track the exact amount of salting used based on data collected from previous weather events. In the past, each salt loading operator had to record the weight of salt used with 'Loader Man Sheets,' handwritten documents which indicated approximately how much salt MDOT SHA was using per weather event. Manually processing the data could take up to four hours per event. Now, with the Loadrite In-cab Controller (pictured above), materials are loaded, the weight calculated and once the operator presses clear, that data is automatically transferred to a knowledge management system where users can access and download this crucial operations information. With this new technology in place, MDOT SHA can now record the exact amount of salt used and where it went.
Rick Cosner, Resident Maintenance Engineer for the Keyser's Ridge shop, tells us, "We're still actively tweaking this technology to ensure accuracy, however, we are already light years ahead of where we were in the past!"