COMMUNICATION -
ADMINISTRATOR'S MESSAGE

Thinking About Pedestrian Safety in an Entirely New Way
When reflecting on the very many successes of the last year, I think about how thankful I am for this MDOT SHA team. Together, you have delivered an outstanding customer experience to Marylanders. This has been a momentous year for all of us at MDOT SHA. We've accomplished so much in 2019 and consistently risen to the occasion when faced with challenges.
One of those challenges has been a personal area of focus – even before becoming administrator: traffic safety. And specifically, the safety of pedestrians and bicyclists. Over the last several years, while overall roadway fatalities remained relatively constant or even decreased, pedestrian deaths continued to climb.
We can all agree: One death is one too many.
The data tells us that the highest proportion of fatalities across the country occurs in core urban areas, where roads serve a high volume of pedestrians and drivers alike. In many instances, these roads were designed a half-century ago or more, when traffic volumes and land use were very different. We needed to think pedestrian and bicycle safety and access in an entirely new way.
We charged the MDOT SHA team to develop better solutions, not only for core urban areas, but also for all six "context zones" that include suburbs and traditional town centers. The team was empowered not only to use nationwide best practices, but to propose new solutions to make us industry leaders.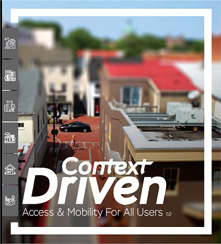 The result, which was recently posted on our website, is "Context Driven: Access and Mobility for All Users." It will be an important guide for all of us at MDOT SHA as we design and redesign our highways moving forward. The guide enables flexibility in design solutions to address pedestrian and bicycle access and safety while still considering vehicle movement.
Make sure to familiarize yourself with our new framework, the zones themselves, and important sections like the "Roadmap to Innovative Treatment Implementation." As we plan repairs and new projects, we'll be using the Context Guide as our touchstone.
A final note: As I am humbled by the honor and privilege of transitioning in roles from MDOT SHA Administrator to MDOT Secretary, I thank you for all that you've done and all you've accomplished during my many years here. Just as you've supported me, I will continue supporting you. We will continue and build upon our success as a department, one that people can count on. I look forward to continuing our journey together next year. We are a mission-focused team, one that embodies integrity, innovation, purpose and momentum.
Thank you.