August 2018
PLEASE PRINT & POST
COMMUNICATION

Administrator's Message: MDOT SHA Launches New Maintenance Leadership Academy
MDOT SHA took a big step in the continued effort to build and maintain excellence from within by starting a Maintenance Leadership Academy. Held July 24-26 at the Hanover Complex, the first session of the training was hosted by the Office of the Chief Engineer and convened leaders from each shop across the State.

Each three-module Academy includes monthly sessions and was built for Resident Maintenance Engineers (RME), Assistant RMEs and Assistant District Engineers (ADE). Each employee will have the unique opportunity to hear from leadership, share best practices and reflect upon the agency's four priorities: innovation, modernization, communication and customer experience.

Greg Slater
Maintenance is the lifeblood of this organization and for us to be successful in the future, we have to support the growth of the next generation of maintenance leaders. This was the genesis of the Academy – the effort to train and instill leadership principles and expectations into today's RMEs, ARMEs and ADEs as they inspire the next generation at MDOT SHA. Over the first three-day session, the Academy welcomed presentations from the Deputy Administrators, Human Resources personnel, Office of Communications and others involved in partnering with maintenance to move the organization forward. Future sessions include August 21-23 and September 18-20. Eventually, the pilot program will evolve so that Facilities Maintenance Supervisors (FMS), Team Leaders and Transportation Engineering Technicians (IV and V) can receive the training in the future.
Phillip Burch, Resident Maintenance Engineer with the Leonardtown Shop who attended the first session tells us, "It's a great opportunity to better understand how MDOT SHA works as a whole, not just from a shop or district level. You get to put faces with people who you email or call often but have never met in person. You can also ask questions or offer suggestions and get an immediate answer which is beneficial to all parties. It's a great opportunity I would not pass up!"
MODERNIZATION

Enhancing the User Experience: MDOT SHA Revamps Statewide Web Site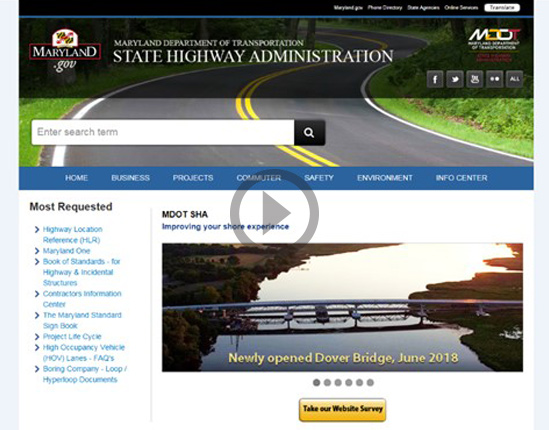 A snapshot of our website's homepage, which will soon include easier navigation and updated software.
We pride ourselves on getting information to our partners and customers quickly, accurately and directly. To gauge our success, MDOT SHA checks in with our customers to see how we can serve them better. In 2017, we surveyed visitors to our web page and discovered that there were areas critically in need of improvement as visitors complained about darting from page to page in search of inquiries. We detected frustration, and we resolved to act.
Enter the MDOT SHA Website Task Force. Earlier this year, representatives of all MDOT SHA offices joined forces to modernize our website. Every department reviewed its web pages to make sure they were up-to-date. Task Force members introduced new features to help customers find pertinent information. We turned to our web design consultants to examine the site, flag areas for improvement, guide homepage redesign and detail instructions to simplify website navigation.
The Task Force worked with OIT to update what lies behind the website – web content software from the ancient SharePoint 2007 to the most recent SharePoint 2016. We are coordinating with the Secretary's Office and also with the State's DOIT, which plans to update the template for all Maryland government websites next year.
Stay tuned for exciting new updates this winter! The new features will help not only our customers, but also make the lives of MDOT SHA page contributors just a little bit easier.
INNOVATION

Leonardtown Recycles a Dilapidated Snow Plow Sign, Transforming it into a New and Improved OneMDOT Shop Sign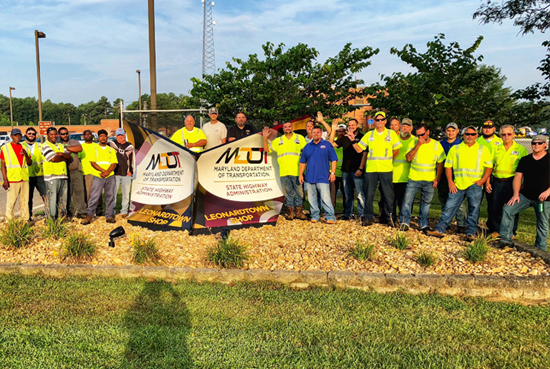 Leonardtown Shop employees say hello while proudly standing by their new OneMDOT Entrance Sign!
The Leonardtown Shop put their creativity to the test this year by recycling an old shop plow sign and transforming it into a new and improved One MDOT sign. A collaborative effort, staff noticed that the shop's entrance sign needed some work and started formulating a plan. Rusted, peeling and covered in MDOT SHA's old circular orange logo, which was replaced in the mid-90's and has since been replaced again, the sign was an obvious eyesore and confused members of the public concerning our brand identity.
Excited about the renovation opportunity, the shop got to work sanding and grinding the old sign down. The team went through the procurement process as well, deciding that fitting the sign with a modern automobile wrap would be the most aesthetically pleasing option. Philip Burch, Leonardtown's Resident Maintenance Engineer tells us, "We decided to do a wrap instead of a sticker because we wanted to make sure the logo was 100 percent standardized. We then went through the bidding process and awarded the lowest vendor."
Not only is the Leonardtown Shop innovating old shop signs, they're also setting trends! As of now, they've received multiple inquiries from other shops hoping to reinvent their outdated signage. Let's all hope that down the road, we see more and more of these examples of brilliance!
CUSTOMER SERVICE EXPERIENCE

The Westminster Shop's Sue Charles Recovers a Citizen's Lost Family Heirloom in the Midst of a Good Deed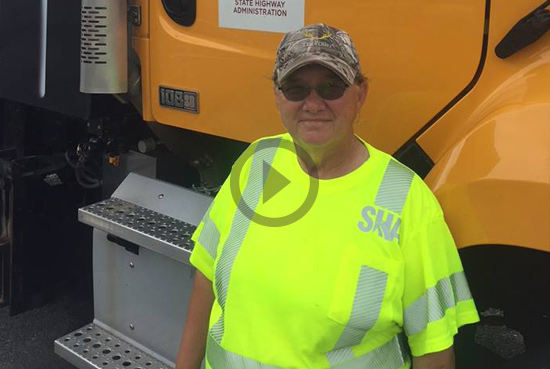 Sue Charles smiles in front of a Westminster Shop plow.
When 14-year MDOT SHA veteran Sue Charles stumbled upon a citizen's misplaced purse, she sprang into action. While performing routine litter pick up on Carroll County's MD 140, she immediately spotted the lost item. Fortunately, the purse also carried the work identification badge of its owner and revealed pertinent contact information. With a closer look, Sue also discovered a small, antique decorative container which had an air of sentimental charm.
Acting in good nature, she called the work number on the identification badge and contacted the woman who had lost her purse. Delighted, the citizen explained that the decorative container was actually an heirloom from her mother, who had passed away. Astounded by Sue's kindness and selflessness, the woman called the Westminster Shop to show her gratitude. Her Resident Maintenance Engineer, Brad Myers, writes, "Sue Charles' actions highlight the level of dedication MDOT SHA has for our customers and she deserves recognition for her actions. This is the customer experience at its finest."
Sue serves as an excellent example of our agency-wide goal to provide timely and responsive, friendly and courteous customer service. A combination of deeds like this - from everyone - builds and leads to an outstanding customer experience - one that keeps the public well-informed and protects the people of Maryland. Her honesty and integrity are inspirational. Let her shining example of kindness and graciousness encourage us all to adhere to the same level of customer service! Sue, we are proud to call you a member of our team.
PHOTO OF THE MONTH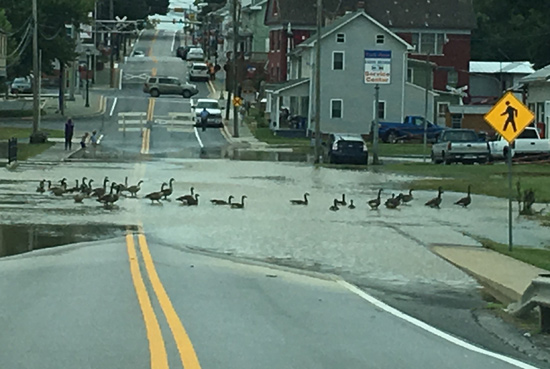 A flock of geese paddle across Carroll County's MD 75 and North Main Street. These birds took advantage of the heavy rains that soaked Maryland last month - and swam rather than waddled across the road.