INNOVATION

Drive Through to Save Lives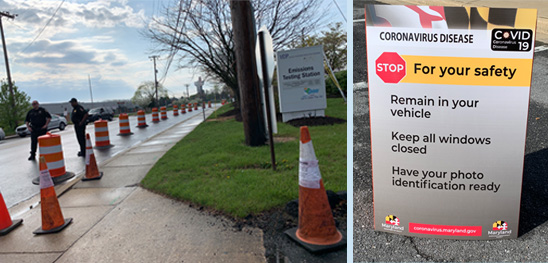 MDOT SHA helped MDOT MVA and the Maryland Department of Health deploy testing sites at VEIP locations.
With coronavirus testing key to reopening the state and restoring our economy, MDOT cooperated with the Maryland Department of Health (MDH) to adapt MDOT MVA Vehicle Emissions Inspection Program (VEIP) stations to drive-through testing sites.
MDOT SHA did its part as stations were set up in Glen Burnie, Waldorf, Columbia, White Oak, and Bel Air. Five additional sites will open in May. MDOT SHA staff provided traffic-control plans, deployed Portable Display Message Signs (PDMS), and set up Portable Cameras (PCAMs) for the Maryland Emergency Management Administration (MEMA) to monitor the flow of cars arriving for medical tests.
Intelligent Transportation Systems Chief Janet Frenkil, who coordinated the effort, attended site walks with multiple agencies, supported MDOT MVA requests, and participated in each site's opening day to show our local shops where to deploy cones, signs, and barrels.
The VEIP stations are now open two days a week from 10 a.m.-2 p.m. MDH Staff are onsite from 8 a.m.-4 p.m., providing setup and training in the use of personal protective equipment.
Among those contributing were teams from CHART ITS, OOTS TDSD, D3, D4, and D5, with participation by management and staff, including Cedric Ward, Joey Sagal, Anyesha Mookherjee, Dave Rineholt, Doug Stewart, John Coll, Patrick Crogan, Michael Garber, Aime Mondoua, Gary Hunt, Steve Rochon, Oscar Yen, and William Stroud.