| | |
| --- | --- |
| APRIL 2019 | PLEASE PRINT & POST |
COMMUNICATION -
ADMINISTRATOR'S MESSAGE


In Honor of Work Zone Safety Month, Let's Always Drive Like We Work Here!

In April we recognize Work Zone Safety Awareness month here in Maryland. With the weather outside warming up, and construction season springing into action, more and more of our workers will be out there on the roads. With more than 500 projects underway across the state during 2019's robust construction season, making work zones safer for crews and drivers alike is a team effort. At MDOT SHA, we focus on work zone safety every day, and we're asking drivers to do the same. Simply slow down and pay attention; Drive Like You Work Here!

Work zone safety is such an important call to action that Governor Hogan declared April 10 as Highway Worker Appreciation Day. Local landmarks including the Governor's House in Annapolis, M&T Bank Stadium, and the World Trade Center in Baltimore were lit in orange as a tribute to highway workers! The orange lighting reminds us of the orange cones, barrels and signs in work zones imploring drivers to focus. Please support the mothers, fathers, sisters, brothers, sons and daughters out there improving our roadway system.

Over the last five years, 46 lives were lost in Maryland work zone crashes. Nationally, there was an average of 700 fatalities each year in work zone-related crashes. Of those, drivers and passengers account for four of five work zone deaths. Together we can make a difference, and here at MDOT SHA we can set the example. Together, we can save lives.

Greg Slater
MODERNIZATION

Take Advantage of the MDOT SHA Print Shop and New Online Form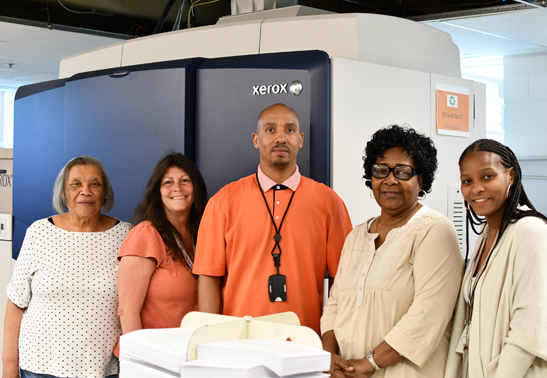 From left to right: Members of the MDOT SHA Print Shop: Helen Green (Print Shop Lead Technician), Maria Lowry (Print Shop Technician), Alvin Henson (Operations Section Chief), Pamela Haynes (Print Shop Supervisor), Kue McIntyre (Print Shop Technician), Dyron Epps (not pictured) (Print Shop Technician).
Have an important printing job with a looming deadline? There is no need to panic, just contact the fully equipped, modernized MDOT SHA Print Shop, located on the basement level of MDOT SHA's Calvert Street headquarters.
Alvin Henson, the Print Shop's Operations Section Chief, recently conducted a tour of our printing facility with over a dozen machines. There's a huge copy machine that can easily process reams and reams of paper for lengthy manuals. An industrial-sized hole puncher. A machine that easily creates large color maps and plats. A machine that attaches rings to binders. One that can perfectly bind a publication.
You can contact the MDOT SHA Print Shop for a variety of tasks that can typically be turned around in three days. Contact the Print Shop for plan sheets, manuals, proposal books, business cards, certificates, reports, carbonless forms, and more. If they don't have the capability of doing a job in-house, the MDOT SHA Print Shop can reach out to the other TBUs, which can often do a specialized job.
Come June, requesting a print job will become easier – you'll be able to complete your job request online. Stay tuned. In the meantime, visit the Print Shop at https://onemdot/mdotsha/oit/OS/SitePages/Home.aspx.
INNOVATION

Office of Material Technology's Friction Testing Program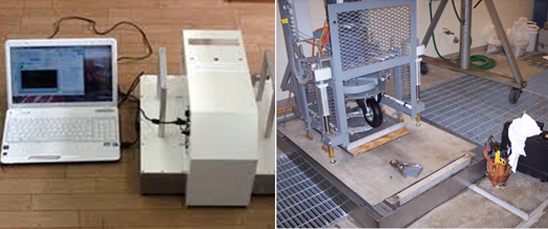 | | |
| --- | --- |
| Dynamic Friction Tester | New Polishing Machine |
What kind of asphalt mixes should MDOT SHA contractors use on a highway leading up a steep hill? How long will it take for test results of "aggregate" to publish in the authoritative aggregate bulletin? The Office of Materials Technology (OMT) often needs to answer questions like these posed by contractors and producers.
Historically, OMT used Maryland Track polishing equipment for its friction testing program that evaluates the friction properties of aggregates used in asphalt surface mixes. Around 2010, OMT modernized its Friction Testing Program by acquiring custom-made aggregate polishing equipment and a Dynamic Friction Tester (DFT) that greatly reduced the testing turnaround time - from three months to just five days. OMT staff worked many hours to conduct multiple testing and partnered with industry before successfully implementing this new technology. This program, unique to Maryland, ensured Maryland roads were paved with skid resistant aggregates.
Currently, OMT is sharing its decades of friction testing experiences by leading the American Association of State Highway and Transportation Officials (AASHTO) Committee of Materials and Pavement's (COMP) Task Force to develop ASHTO Standard Methods for sample preparation, polishing, and friction testing. Many State DOTs, AASHTO, FHWA, and the National Center for Asphalt Technology are members of the task force, which is led by OMT Director Sejal Barot with excellent support from OMT staff. Breakthrough techniques she presented to other DOTs will be adopted by other states.
"Maryland is above and beyond a national leader using this technology," says Barot. "When I presented to AASHTO COMP, everyone was eager to follow our lead. We're doing something that can help other DOTs nationwide. That's awesome."
CUSTOMER SERVICE EXPERIENCE

Internal Customer Service Excellence Matters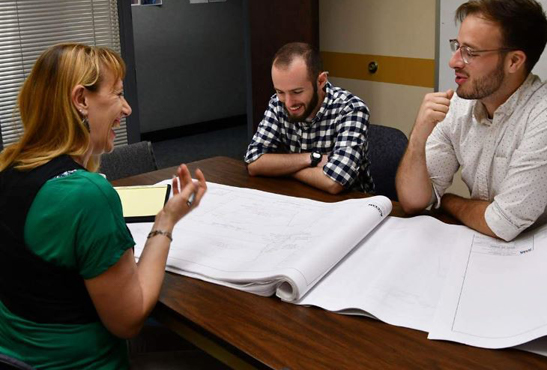 From left to right: Kiona Leah (Team Leader), Sam Kane (Technical Design Engineer III), and Michael Weber (Technical Design Engineer III) discuss project plans together.
The launch of MDOT SHA Administrator's Project Green Light in September 2016 sparked a movement for MDOT SHA leadership to focus on the people and cultural side of the organization. We are employing the "mission-first, people-always" approach to transform our organization, while aligning our employees with the pillars of excellence: innovation, modernization, communication and customer experience.
We are focusing on what really drives the organization: our people/employees. Employees of all levels across various offices are uniting to solve MDOT SHA's most complex problems. Diverse backgrounds and perspectives spark innovation. We are collaborating and designing solutions from the bottom up. We are empowering the voice of our employees through Project Green Light, LEAD, ALP, town halls, focus groups, and data.
For example, the Office of Organizational Excellence and Strategy completed tours at offices and shops across all districts, gaining insight into employee and organizational challenges and solutions. In addition, the Office of Information Technology completed an office rodeo, acting as a business partner to identify each office's technology challenges. The organizational modernization group has teamed up with business partners across various offices to drive organizational change that will enhance the employee and customer experiences. The people make the workplace, so empower them. When you take care of your internal customers, they will take care of our external customers, the citizens of Maryland.
PHOTO OF THE MONTH

Left: MDOT SHA and Anne Arundel County archaeologists have found DNA on a tobacco pipe that stems from a 200-year-old stone slave quarter at Belvoir Mansion along MD 178 (Generals Highway). Right: Nancy Matthews Daniels, a direct ancestor of the slaves who once lived at Belvoir Mansion, smiles jovially, excited about MDOT SHA's groundbreaking archeological find.